HSC Exam Result 2019 Dhaka Board
Official web address: www.dhakaeducationboard.gov.bd
Check Dhaka Board HSC Result by Mobile Message. For this go to Mobile Messages Option and Type
HSC<space>DHA <space>Your HSC Roll<space> 2019 Now send the Message to 16222
HSC Result 2019 Rajshahi Board
Official web address: www.rajshahieducationboard.gov.bd
Check Rajshahi Board HSC Result by Mobile Messages. For this go to Mobile Message Options and Type
HSC<space>RAJ <space>Your HSC Roll<space> 2019 Now send the Message to 16222
HSC Result 2019 Comilla Board
Official web address: www.educationboard.gov.bd/comilla
Check Comilla Board HSC Result by Mobile Messages. For this go to Mobile Messages Option and Type
HSC<space>COM <space>Your HSC Roll<space> 2019 Now send the Message to 16222
HSC Result 2019 Barisal Board
Official web address: www.barisalboard.gov.bd
Check Barisal Board HSC Result by Mobile Message. For this go to Mobile Message Options and Type
HSC<space>BAR <space>Your HSC Roll<space> 2019 Now send the Message to 16222
HSC Result 2019 Sylhet Board
Official web address: www.educationboard.gov.bd/sylhet
Check Sylhet Board HSC Result by Mobile Messages. For this go to Mobile Message Options and Type
HSC<space>SYL <space>Your HSC Roll<space> 2019 Now send the Message to 16222
HSC Result 2019 Jessore Board
Official web address: www.educationboard.gov.bd/jessore
Check Jessore Board HSC Result by Mobile Messages. For this go to Mobile Message Options and Type
HSC<space>JES <space>Your HSC Roll<space> 2019 Now send the Message to 16222
HSC Result 2019 Chittagong Board
Official web address: www.educationboard.gov.bd/chittagong
Check Chittagong Board HSC Result by Mobile Message. For this go to Mobile Message Options and Type
HSC<space>CHI <space>Your HSC Roll<space> 2019 Now send the Message to 16222
HSC Result 2019 Dinajpur Board
Official web address: http://dinajpureducationboard.gov.bd/
Check Dinajpur Board HSC Result by Mobile Messages. For this go to Mobile Message Options and Type
HSC<space>DIN <space>Your HSC Roll<space> 2019 Now send the Message to 16222.
HSC Exam Result 2019 Madrasah Board
Alim HSC Result 2019 by Madrasah Board (bmeb.gov.bd). Official web address: www.bmeb.gov.bd
Type HSC space first 3 letters of your board name that is MAD space your HSC Roll number space 2019 and send it to 16222.
Example: HSC<space>MAD<space>1234569874<space>2019 send to 16222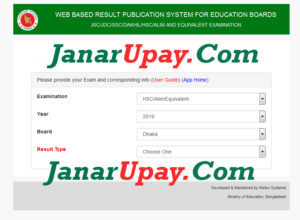 Check HSC Exam Result 2019 by Mobile SMS?
So, You can use your personal Mobile Phone to check the HSC Exam Result 2019 by SMS.Just, Check your Account Balance First. If you have sufficient Balance in your Mobile Account, then go to the Message option and type the below SMS Format.
HSC <space> 1st Three Letters of Board Name <space> HSC Roll <space> 2019
Type your message option- And send it to 16222
SMS System For General Board (HSC)
HSC<> FIRST THREE LETTERS OF BOARD NAME<>ROLL NO<>2019 AND SEND TO 16222 NUMBER
Example :
HSC (SPACE) DHA (SPACE) 1478520 (SPACE) 2019 SEND TO 16222
SMS System For Madrasah Education Board For Alim class Students…
ALIM <> MAD<> ROLL NO <> 2019 AND SEND TO 16222 NUMBER
Example :
ALIM (SPACE) MAD (SPACE) 1478520 (SPACE) 2019 SEND TO 16222
SMS System for Technical Board Examine
HSC <> TEC <> ROLL NO <> 2019 AND SEND TO 16222
Example :
HSC (SPACE) TEC (SPACE) 1478520 (SPACE) 2019 SEND TO 16222
Send the Message now to 16222. While you will send the Message, you will be charged 2.44 TK. Then you will receive an SMS from 16222. The SMS will provide your Result. Please be noted that you must need to send the message after Publishing the HSC Result. Here are the 1st Three Letters of All Education Board Name.
HSC Education Board Results
| | |
| --- | --- |
| Education Board Name | First Three Letters |
| Barisal Board | BAR |
| Comilla Board | COM |
| Chittagong Board  | CHI |
| Dhaka Board  | DHA |
| Dinajpur Board  | DIN |
| Jessore Board  | JES |
| Rajshahi Board | RAJ |
| Sylhet Board | SYL |
| Madrasah  Board | MAD |
| Technical Board | TEC |
Mobile sms is the second modern system for cheeking the hsc exam result 2019 for the student. By the sms system one can get all other public exam results in Bangladesh. Guardian and students both can check HSC Result by mobile sms. Do you want to check your Result from your mobile? Please follow instruction below. Here you can get all the solution, and you will be able to get your result on your mobile sms. First you must be know the published date of your hsc result 2019.
HSC Result 2019 without Registration Number
You can easily get your hsc result without registration number. For doing this, you need to visit Edication Boards Result official website which is www.educationboardresults.gov.bd First go there and select individual result and enter your board name and at the last enter your roll number. Fill up the captcha and click submit. You are done. HSC Result 2019 with Marksheet
HSC Result 2019 with Eiin number
By elin number you can get the hsc result by institution/school wise. Like the system above, open a internet bowser and input the url http://eboardresults.com/. Then choose the hsc from the option. Fill all the box like the system above. just select the 'institution result' from the 'result type' box. In the next box input your institution EIIN Number correctly. At last click the 'Get Result' button. Here you can get all student's result from your institute/school. This is the easy way to get all students result of an school. HSC Result 2019 with ELIN number
HSC Result 2019 BD
Bangladesh is a developing country. There is technical board in Bangladesh which is control hsc result 2019 bd. Under the Technical Education board the hsc examination start at 02 April,2019. Last year in 2018 the passing percentage of hsc educational board result was 66.68%. In the last year the exam result published 19th July (Thursday) 2018. So we hope this year the hsc result 2019 will publish on 19th July, 2019 in Bangladesh. All data collected about HSC Result Bangladesh from Newspapers or Television will appear here. You can know all education board result news by the television.
HSC Result 2019 Online
Bangladesh is a digital country. Our education system has changed a lot with the help of modern technology. Our government is very aware of educational digitization.  All results of public examination are now published in online. There are some website for serving HSC result very quickly.
HSC Result 2019 with Marksheet
We are here to help you collecting HSC Result 2019 with Marksheet from this post. Read this post very carefully and collect your HSC Marksheet. Follow these steps one by one and you will get your
HSC Result 2019 markshit.
মার্কশিটসহ রেজাল্ট পেতে Roll, Registration & Board কমেন্ট করুন!
First : Go to www.educationboardresults.gov.bd
Second : Choose HSC from "Examination" option
Third : Choose 2019 as your examination year
Fourth : Now select your board name
Fifth : Type your HSC roll number and registration number in next two boxes
Sixth : Solve security math and press "Submit" button
And lastly You have done….
About Post Author